How to Add Client Information
What you can do: Add Client Information into Pulse360



---
With CRM Integration



When it comes to bringing in the clients' information to Pulse360,
it is a one-way sync from your CRM to Pulse360. If a new client needs to be added, create them in your CRM - it will then sync over to Pulse360 in 3-5 minutes.
Any changes made to an existing contact in your CRM will automatically update in Pulse360.
Please refresh your Pulse360 browser page after 3-5 minutes to view the changes.
---
Sometimes you may have a contact in your CRM that you have subsequently deleted. Since we do not automatically delete the contact in Pulse360 (to avoid data loss), we will be performing a check against your CRM. If the contact does not exist in your CRM, we will let you know by applying the red icon as seen in the graphic below. This way, you can ensure that you are adding notes and tasks to the correct contact record in Pulse360.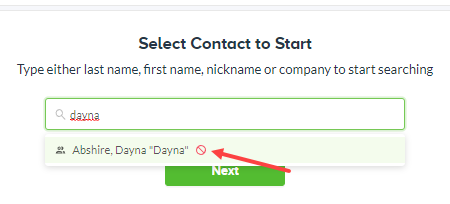 Note: When you first login to Pulse360, all contacts may have this icon. It should disappear shortly as a full CRM sync is being processed.
---
Without CRM Integration (Manually)
For more info, please watch this video:
Related Articles

How to Create a "Client To-Do" Template

What you can do: Add Client To-Do Part to a Document Template Sometimes you may require some actions from your clients. You can easily do it from Pulse360 by creating a Client To-Do section of an email and sending it out. How: Step by step ...

How to Add and Edit Blocks

What you can do: Create Reusable Blocks Reusable blocks are what make up a document template. They can be used across all templates. When you update a block, any other template that uses that block will also be updated. This way, if you have a block, ...

How to Create and Manage Client Greetings

What you can do: Add Greeting Client greetings are automatically synced over from your CRM, but you can always add custom greetings in Pulse360. This can be done in the client's record or in the document editor. How to manage Greetings in the ...

How to Send Out a "Client To-Do" Email

What you can do: Send out Client to-do's quickly and easily Sometimes you may require some actions from your clients. You can easily create an email or document with the client to-do items in Pulse360. In order to send a Client to-do, you must have ...

How to Bulk Add Collections

What you can do: Bulk Add Collections You can add multiple Collections to multiple contacts in a few seconds. In order to do so, you need to have collections in your Library. Here you can find how to manage collections. Check out the video to see ...