Merge Fields in Document Templates: Overview
What you can do: Add Information into Document Template
A merge field is a field you can put in a template to incorporate values from a record
. For example, you can place a merge field in an email template so that the greeting includes the recipient's name rather than a generic "Hello!"

When creating
document templates
, merge fields will bring over information t
hat is unique for every meeting, like client name, date and time of the appointment, your email signature, notes, etc. They can be added into
document blocks
using a button on the toolbar.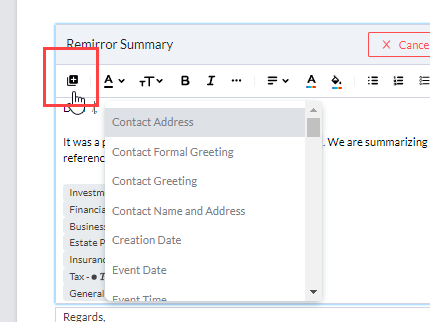 You can also just type a slash ( / ) and the name of the merge field: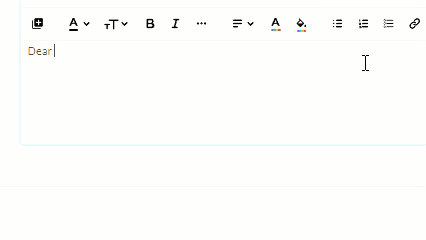 Topic Merge Fields
are responsible for bringing the notes into the document. They are the same as the
Topics
you organize notes under.
If you add a merge field for a topic, any note under a contact that is labelled under that topic (ex. Investments) will then appear in this document.
If the Topic Merge Fields is not in the template, the note under this Topic will not appear in the document.

You can change settings of a Topic Merge Field for different purposes by clicking on it:
Select the display options for notes under this topic.




Add subtopic for client-to-do items.




Switch the toggle to show or hide topic title in the document.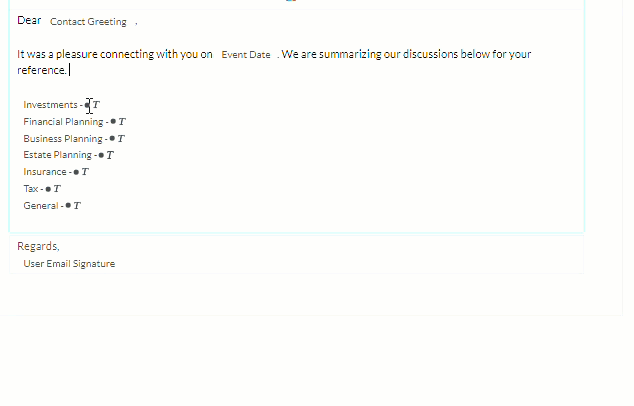 ---
Tips
Topic Merge Fields link to the Topics of the notes.




You can create a

client-to-do

item by changing

Topic Merge Field's settings.



Related Articles

Templates: Overview

What you can do: Create Document Templates Document Templates are an accumulation of blocks to create a template - usually an Agenda or Summary. Pulse360 comes with pre-made templates, but we encourage you to create and customize your own. You can ...

Flexible Fields in Notes: Overview

What you can do: Add Information into Note Template If you are adding a note into the Note Template Library, which will be reused for other contacts, you may want to add in flexible fields. Flexible fields consist of data that may change across ...

Workspace: Overview

What you can do: Add Notes and Create Documents Once everything is set up, the Workspace is the area where you will spend 99% of your time. It is where you create/add notes, manage and search your notes, and send/download documents. Overview In the ...

Notes and Collections Library: Overview

What you can do: Save Notes Templates Some notes are unique and can be used only on specific occasions for specific clients. Other notes can be very generic and reused across all contacts. You may want to write them in a way so that you can ...

Collections: Overview

What you can do: Group Notes Collections are groups of note templates that you have in your Notes Library. You can add as many notes as you want to your Collections, including those that have tags, workflows, and attachments. Check out the video to ...